Temptation

by
K.M. Golland
Description:

This book is for mature audiences 18+ It contains explicit language and sexual content.

Sometimes being happily married and completely content is not at all what it seems.

That is what 35 year old, happily married, mother of two, Alexis Summers finds out when she decides it is time to return to work.

After being a stay-at-home mum for the past nine years, Alexis now realises a complete career change is just what she needs.

She becomes a Concierge Attendant in a prestigious hotel in Melbourne working for the owner of the hotel, Bryce Clark. He resides in the penthouse, is extremely hot, and is a man who always gets what he wants. And what he wants is Alexis.

She does a relatively good job resisting Bryce at first, but the undeniable chemistry, sexual tension, and playfulness between the two of them is intense. He has copious amounts of money, sex appeal and above all else, is a genuinely nice guy. Bryce has been waiting for his one true love to come along, and he is positive that one true love is Alexis.

There is one problem; she is happily married to Rick, and no matter how strong her feelings are for Bryce, she is adamant she will not cheat. She draws a line in the sand, but finds it increasingly hard not to cross. Will she succumb to Temptation?
Check out My 5 Star Review
Excerpt:
"The Charger is open, hop in," he said with a smile.
"Really? Argh!" I squealed with delight. If I could have performed a series of backflips, I would have been tumbling right through the garage.
I pushed in the button on the handle and opened the door. The black leather was pristine, and I could pretty much see my reflection in it. I sat down in the driver's seat and placed my hands on the steering wheel. It wasn't small, thick and chunky like they are made nowadays. It was large, round, thin, and hard.
I closed my eyes and put my head back while gripping the wheel. Oh, this is so good. I'm in Heaven. Almost instantly, I felt Bryce's hand on my neck, and I couldn't help but let out a soft cry of pleasure. Keeping my eyes closed, I felt him trail his finger up and down my throat.
Opening my mouth as he moved it across my lips, I bit down gently as he placed it on my tongue. He removed his wet digit from my mouth, trailed it back down my throat and in between my breasts, where he slipped it into my bra and gently massaged my nipple. My eyes remained closed and my breathing became quite ragged. I wanted desperately to open my eyes but couldn't—if I had opened them—I would've stopped him. It just seemed that closing my eyes made it acceptable.
He removed his hand from my breast, and the anticipation of his next touch was simply excruciating. I gripped the steering wheel quite hard as I waited for him to replace his hand—which he did—at my knee, slowly moving it up my leg and underneath my skirt. I had stockings on again, and when his hand reached the bare skin between my legs, I moaned with delight.
He leaned in the door and kissed my wanting mouth, then continued moving his hand up and underneath my underwear. Automatically, I tilted my pelvis up to give him easier access. This was my ultimate fantasy, he was my dream guy and he was about to finger-fuck me in my dream car.
As he touched my soft, sensitive clit, I groaned out loud. The sensation was unbelievable and more so when he entered me with not one but two fingers, stretching my inside in a circular motion. Holy Fuck! I'm gone. I arched my back, and my hand—moist with sweat—slipped from the steering wheel and landed on the horn. The loud beep forced me to open my eyes, and I was jolted back into reality, recognizing I had just had another daydream. Shit, Alexis, not again.
I quickly gathered my bearings and this time, I found that Bryce really was at the window. I was perspiring and literally coming down from a climax. I was hot and wanting, and my chest was heaving. I threw him a look of lust, which didn't go unnoticed as I opened the door of the Charger, forcing him to step back. I got out of the car and stood with my back against it. Bryce was leaning against the Bel Air, staring at me. I couldn't do or say anything, what I'd just experienced in my reverie was so overpowering, I had no control whatsoever.
His hands were splayed on the door panel, and I noticed them both arch and tense up. The look he directed me asked one thing and I couldn't refuse.
"Yes," I sighed in surrender.
Expecting him to pounce as his body language suggested it, instead I watched as he moved slowly and with deliberate control. It was so fucking sexy, and it just added to my already uncontrollable need for him. He grabbed my face and kissed me with such passion that I nearly convulsed on the spot.
I gave in to the kiss, feeling that I needed to and owing us both the experience of it being consensual. He broke off momentarily and looked into my eyes, and when I didn't protest, he kissed me again but with more lustful aggression. His hands fell to my arse where he gripped me and lifted me up. I wrapped my legs around his waist, once again. I'm sure I told him about an hour ago, this would never happen.
He placed me down on the bonnet and laid me back. Fuck me! I'm going to have sex with him on the bonnet! No. No. No, you're not, Alexis. He hovered over me and ran his hands up my legs, pushing my skirt up and exposing my garter, stockings, and underwear.
"Fuck, Alexis, you're so beautiful," he professed as he rubbed his hands up my thighs. Then, grabbing hold of my underwear, he tore them apart. Oh shit, that was hot!
I was so vulnerable, lying their spreadeagled on his Charger bonnet with nothing to cover my wet pussy.
Slowly, he moved forward, not taking his eyes from me, and that's when I stopped him. "No, I can't," I cautiously sighed.
He froze with my hands resting on his shoulders and his head only a foot away from its target. He didn't argue with me, nor was he pissed off—well he probably was, I know I was. Instead, he gave me his hand and helped me sit up.
"I'm sorry, Bryce, I want to. Fuck do I want to—but I just can't do that, it goes against everything I stand for. I could never do anything like that behind Rick's back."
Now sitting on the edge of the bonnet with my legs still wrapped around him, I buried my face in my hands. "How could you possibly understand? Even I don't understand what's going on here. What are we going to do? I can't keep doing this to Rick, and I can't keep doing this to you or me either for that matter."
He pulled me to his chest. "I understand you have morals and have made vows you don't want to break. I respect that, I truly do. It just makes you even more desirable."
"Fat lot of good that does you."
He kissed the top of my head. "There's always a way, Alexis. You don't get to where I am in life without being resourceful or thinking outside the box. If you won't give yourself to me behind Rick's back, then we'll get his permission."
• 1 of 5 digital copies of Temptation
•
a signed iPhone 5 Temptation cover (image below)
a Rafflecopter giveaway
About the Author:
K.M. Golland was born and raised in Melbourne, Australia. After studying Legal Practice for two years and working as a Land Conveyancer for four years, she put her career on hold to raise two beautiful children. Always having a love for reading, she decided rather than returning to the Legal Industry, she would become a Writer—publishing her debut novel Temptation (Book 1 in The Temptation Series.)

I am an author. I am married. I am a mother of two adorable little people. I'm a Bookworm, Craftworm, Movieworm, and Sportsworm. I'm also a self-confessed Shop-aholic, Tea-aholic, Car-aholic, and Choc-aholic.
Social Links:
Website
●
Twitter
●
Facebook
●
Goodreads
Buy Links:
Amazon
● B&N
● Smashwords
● Kobo
● iTunes
Tour Coordinator: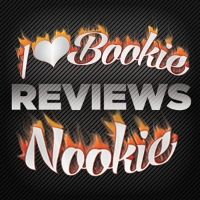 Please check out the other stops on this tour today:
Check out the entire schedule of the 18 Holiday Party Blog Tour stops & participating bloggers HERE.