This Love's Not for Sale

by

Ella Dominguez
Description:
Written for mature audiences and contains kinky graphic sexual encounters, profanity, bondage & discipline, loads of steamy verbosity, and an alpha male that'll make you quiver, laugh and swoon.
Erotic, touching and humorous.
Tucker: Arrogant, brutally honest, and fond of bondage and discipline.
Lilliana: Stubborn, opinionated, and impatient.
When the real estate mogul who is used to getting his way in all things meets the 30-something year old dental hygienist who has inherited a large tract of land, their chemistry and physical attraction to one another is undeniable. Realizing that Lilliana is sitting on a real estate goldmine, Tucker sets his sights on trying to obtain her acreage at any cost - even if it means deceiving her and buying his way into her heart. But Lilliana has no interest in falling in love or being pursued by a certain attractive yet arrogant alpha male interested in her property, and she can't be bought.
Just when things are heating up and Tucker starts to fall for Lilliana, she discovers where his true motivations lie, forcing her to seek sweet revenge the only way she knows how - by giving in to his every fantasy and toying with his emotions.
Excerpt:
"Hang up the phone, pet."
Lilliana hadn't even heard Tucker sneak up.

Lilliana's hands trembled from embarrassment and anger, and she just wanted to end the call and hide. When she didn't immediately comply with Tucker's order, he gently took the phone from her hand and hit the end button. When she turned to face him, she felt relieved Tucker had taken the initiative to cut Adam off. Tucker powered the phone down and casually laid it back on the counter.
"I want all of your attention and your ass back in my bed now," he said with quiet emphasis.
Lilliana nodded fervently and moved quickly, but not fast enough. Tucker's hand caught her bare cheek with a harsh slap making her yelp and jump. She ran to his bedroom and sat waiting for him on her knees on the bed.

Anxious energy was coursing through her veins. When Tucker came into the bedroom, he smiled at her, his eyes dancing with lust and filling Lilliana with a kind of longing she had had never felt before.
"Stunning," he spoke in a broken whisper, his voice echoing her own sentiments about him.
Tucker held his hand out and helped Lilliana lay back on the bed. When he slid in next to her, he pulled her onto his chest.
Tucker's voice was calm and steady, and exactly what Lilliana needed after the distressing conversation with Adam. "Are you okay?"
Tucker must've heard what was going on and Lilliana suddenly felt reserved. She didn't particularly enjoy talking about Adam and her past marriage woes.
"Yes, I'm fine."
"Do you still have feelings for him?"
Lilliana leaned her head back and gazed into Tucker's eyes and shook her head, trying to reassure him. "Oh, I have feelings for him alright, just not the sentimental kind and there sure as hell isn't any love lost for him."
Tucker lifted one side of his mouth in a crooked smile, but raised his eyebrows at her in disbelief.
"Then why are you still in contact with him?"
"I'm not in contact with him; he's in contact with me."
"Why haven't you put a stop to that?" Tucker asked, pushing her off his chest and lying next to her.
"I've tried. I've even gone as far as changing my phone number twice, but he's… relentless."
Tucker clenched his mouth into a tight line and some indefinable emotion flickered in his eyes. "Perhaps someone should have a talk with him about that."
"And that someone is going to be you? That'll go over well. The last thing you need is anymore damage to your pristine smile."
Tucker's lips twitched with the need to smile. "What makes you think it would come to that? Why can't two reasonable, grown men have an adult conversation?"
"It depends on the two men in question. You and Adam, reasonable? Not so much."
"I can be levelheaded when necessary," Tucker countered defensively.
"Maybe you can, but Adam doesn't like being told what to do."
With a hint of censure in his tone, Tucker responded. "Most men don't, Lilly. That's where the power of persuasion comes into play and as you know, I can be very convincing, especially when it comes to what belongs to me. Also, my amazing molars would be just fine. His on the other hand – those are the ones you need to worry about."
Copyright This Love's Not for Sale, Ella Dominguez, 2013
•
5 copies of
This Love's Not for Sale
Kindle or Nook formats + Swag
About the Author:
I'm a full-time mom, wifey, healthcare worker, and wanna be switch. I was born and raised in a sexually repressed, strict Christian household in the bible belt of the USA. This upbringing and repression contributed to my wicked imagination and writing has been my only outlet for my sexual fantasies. Finally at the ripe and sexually primed age of 40, I mustered up enough courage to share my naughty thoughts and put pen to paper. I sincerely hope to find my niche in writing erotica in all forms, be it romance or paranormal.
I don't consider myself an author. I consider myself an avid reader above all else, and someone who simply writes the stories that the characters in my head tell me to.
Social Links:
Goodreads
● Twitter ● Facebook
●
Website
Buy Links:
Amazon ● B&N ● All Romance ● Smashwords
Tour Coordinator: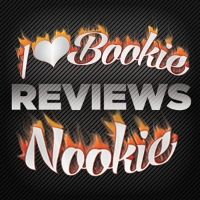 Please check out the other stops on this tour today:
Check out the entire schedule of the 18 Holiday Party Blog Tour stops & participating bloggers HERE.