Eighteen at Last
by
Gretchen de la O
My rating:
4 of 5 stars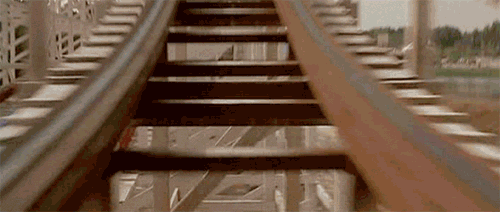 Yeah, a roller coaster… an emotional roller coaster. That's exactly how I felt while reading EIGHTEEN AT LAST; it was way more emotional than I expected it to be.
❝ Sometimes I can't believe Wilson's only seventeen. She seems so much older.❞
Yes, Max, haven't you heard that girls mature faster than boys? I believe that is a scientific fact (sounds good anyway) – that is why you feel like you are on the same level, because mentally, you are ☺.
The story of Wilson and Max's forbidden love affair picks up where the first book, ALMOST
EIGHTEEN left off. Wilson is still sweet and semi-innocent in the month leading up to her eighteenth birthday – you know the day they can get down and dirty without Mr. Max getting arrested for having sex with a minor? Yeah, eighteenth birthday = really big day! They continue their steamy sessions of heavy petting… and licking… but they do their best to keep their romance on the down-low, but were they sneaky enough to keep their shenanigans secret? I know, but I'm not tellin'.
I loved Wilson, I felt like she had this sweet disposition that made the "girl-next door" title perfect for her. This is kind of how I pictured the Wilson we grew to love from ALMOST EIGHTEEN… the virginal Wilson:
❝ Bringing his lips to mine, he kissed me like I was a drug he craved more than life.❞
Thank God! They FINALLY did it! But after a few rounds of doing the nasty, Wilson goes from the good girl next door to a wanton little hussie…
Ok, well, maybe not quite a slut, but let's be honest here… SHE DOES NOT MAKE GOOD CHOICES AFTER GETTING UP CLOSE AND PERSONAL WITH DICKIE! It's like the penis made her stupid too! OH LAWD! Stupid is contagious! I was really disappointed in Wilson's behavior once she left Max's family home after they had sex, but honestly, without the drama, it wouldn't have been as interesting. Predictable outcomes are never very exciting.
Oh Gretchen! Why do you torture us so? A cliffy? Boooooooo! Ok, so the dreaded cliffhanger isn't
terrible
, but I am still counting down the days until the release of the third book, BEYOND EIGHTEEN. October 2nd is right around the corner, but I am keeping my fingers crossed for an ARC… *HINT* *HINT*
✳✳
Copy provided by the author/publisher for an honest review.
✳✳ Reviewed on
I ♥ Bookie Nookie Reviews
___________________________________________________
If you like this type of book, you might enjoy one of these groups. Check us out!
Menage Readers
Erotic Enchants
Bookie Nookie's Erotic Lending Group
View all my reviews
BUY IT NOW! - Amazon